With a rejection rate of less than one percent and in-house services, the quality, durability, and value of Mid American Rubber's new rollers cannot be beat. We can design and manufacture rollers up to 96″ in length and 12″ in diameter.
Design & Engineering
With more than 40 years of in-house engineering expertise, Mid American Rubber is uniquely able to meet customer specifications through a state-of-the-art CAD system for complete custom roller design. Our precision engineering allows for rubber tolerances to be held as close as .001."
New Core Fabrication
With Mid American Rubber's in-house machine shop, new core fabrication is precise, yet affordable. We have the machinery and expertise to meet blueprint specifications and tolerances for your new metal cores. In order to reduce lead time, we maintain an inventory of common steel and aluminum rounds and tubing sizes.
Manufacturing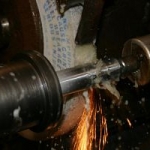 Mid American has a broad range of roller capabilities, including:
The ability to manufacture rollers up to 96″ in length and 12″ in diameter
Roller profiles with cut outs and bevels
Balanced roller assemblies for high speed processing
Able to supply complete roller assemblies shafts/gears/bearings
Inspection
From our engineering expertise in roller design to final inspection to verify customer specifications, we maintain an excellent quality rating with our customers, resulting in a reject rate of less than 1 percent.
Certification
Per customer request, Mid American Rubber will complete a part(s) certification sheet.  Measurements will be taken on customer specified roller attributes and documented on a Certification Form.  The form will accompany the parts when shipped.
Delivery
Lead times vary depending on specific aspects of the roller specifications. In some cases we have been able to complete orders in less than two weeks. Mid American Rubber can ship anywhere in the world by direct ship or freight forwarder.  International orders require pre-payment to be made via wire transfer or credit card.
Interested in learning more about Mid American Rubber and our capabilities? Contact us today to request a quote or more information.