In addition to manufacturing new rollers, Mid American Rubber also specializes in recovered rollers by reconditioning existing rollers. Through our in-house process your used roller can be renewed to a "like new" state saving you time and money compared to designing new rollers.
Our reconditioning process is designed to guarantee usability and client satisfaction. Steps include: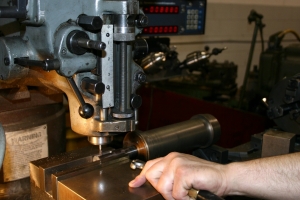 Inspecting incoming rollers
Repairing journals, if necessary
Stripping of old worn rubber
Recoating with new rubber
Curing in a controlled pressure vessel
Trimming to specific length
Precision grinding
Polishing
Inspecting recovered roller once final
Packaging for secure and on-time delivery
Core repair
All cores are inspected upon receipt and checked against OEM blueprints for journal specifications and straightness. All repairs are performed in our on-site machine shop.
Journal repair
Undersized or worn journals can be built up and repaired to meet print specifications.
Grinding
Mid American Rubber maintains various highly precision grinders and lathes that our experienced operators set and check to maintain uniformity, close tolerances, and specific diameters throughout an entire order of parts.
Finishing
At Mid American Rubber, we have the experience and machinery to meet customer specific finishes and special grooving to optimize our customers' applications.
Interested in learning more about Mid American Rubber and our capabilities? Contact us today to request a quote or more information.